What is the Friends of Konza Prairie?
Friends of Konza Prairie (FOKP) is a 501(c)(3) non-profit organization dedicated to the support of the Konza Prairie environmental education program. As a member, your contributions are tax-deductible (less benefits received) and go to bringing area school children to the tallgrass prairie.
What does FOKP do?
Supports the Environmental Educator who develops educational programs for K-12 students and the general public, including the Docent Program, on prairie ecology and tallgrass prairie research and conservation.
Markets Konza Prairie merchandise to raise funds for our education programs.
Provides educational presentations about Konza Prairie to local organizations, through the FOKP Presenter's Bureau.
Sponsors special events at Konza Prairie throughout the year, such as:

Cure for Cabin Fever Soup and Song in January
Greater Prairie-chicken viewing in April
Walk with Researchers guided hike of headquarters in May
Wildflower Walk on Butterfly Hill in June
Bison Barbecue and Bison Loop Tour in September
Visions of the Flint Hills art show at the Buttonwood Art Space, Kansas City, MO in October/November
Membership Questions? Contact Hallie Hatfield at (785) 587-0381 or email at: keeped@ksu.edu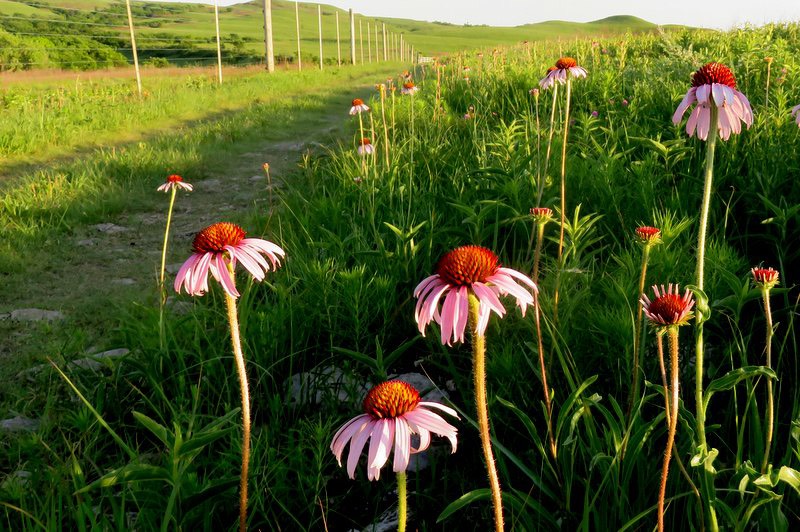 2019 Annual Wildflower Walk
When: Sunday, June 2nd - 6:30 pm
Where: Konza Prairie Biological Station - headquarters directions - NOTE: you will proceed past the entrance to the Nature Trail and enter into the KPBS headquarters area. Volunteers will be on hand to help direct you.
Cost: $10/person or free to members of the Friends of Konza Prairie
How far: You can turn around whenever you like, but the whole trail will be approximately 1.5 miles
No reservations required - just come out and join us!