What is the Friends of Konza Prairie?
Friends of Konza Prairie (FOKP) is a 501(c)(3) non-profit organization dedicated to the support of the Konza Prairie environmental education program. As a member, your contributions are tax-deductible (less benefits received) and go to bringing area school children to the tallgrass prairie.
What does FOKP do?
Supports the Konza Environmental Education Program (KEEP) for K-12 students. KEEP introduces students to ecology and beauty of the tallgrass prairie. The program also connects students to this amazing ecosystem and introduces them to the science and research of the Konza Prairie Biological Station.
Supports the work and activities of the Konza Prairie Biological Station.
Sponsors special events at Konza Prairie throughout the year, such as:

Cure for Cabin Fever Soup and Song in January
Greater Prairie-chicken viewing in April
Walk with Researchers guided hike of headquarters in May
Wildflower Walk on Butterfly Hill in June
Bison Barbecue and Bison Loop Tour in September
Visions of the Flint Hills art show at the Buttonwood Art Space, Kansas City, MO in October/November
Membership Questions?
Call (785) 587-0381 or email at: friendsofkonza@gmail.com
Want to Contribute to Support Konza Prairie?
Your support is appreciated - and easily made here
Memorials to the Friends of Konza Prairie may be sent to:
FOKP116 Ackert HallDivision of Biology; KSUManhattan, KS 66506
Upcoming events: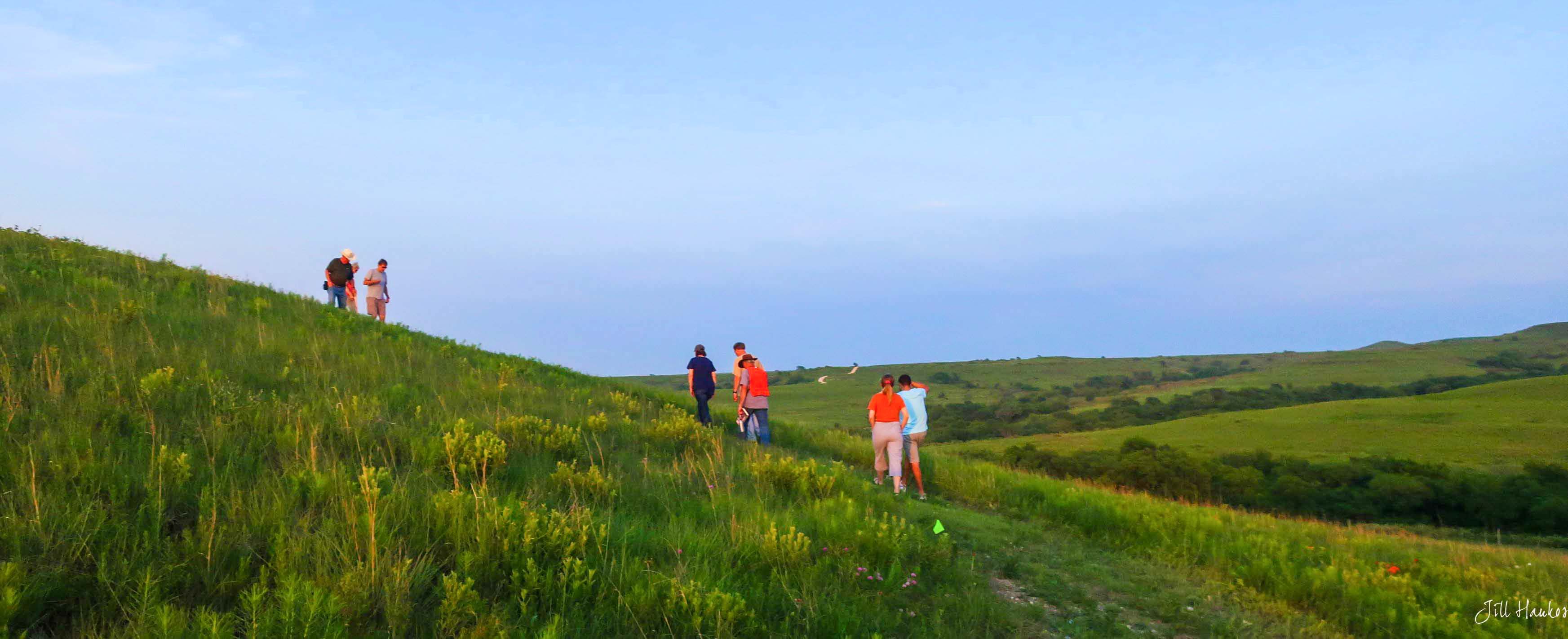 2021 Wildflower Walk
When: Sunday, June 6th @ 6:30 pm
Location: Konza Prairie Biological Station Headquarters - 100 Konza Prairie Lane, Manhattan, KS
Join us to hike the gorgeous and secluded Butterfly Hill Trail at Konza Prairie. This trail is normally off-limit to the public and, during mid-spring, is resplendent with native wildflowers and butterflies.
The 1.5 mile hike is easy and marked - you'll be put into groups of 10 people, each with a guide.
Expect to see a sunset on the tallgrass prairie with golden light illuminating up to 50 different species of flowers.
Join us! No reservations needed (just show up) - $10/person or free to members of the Friends of Konza Prairie.
Questions? Call (785) 587-0381
Proceeds benefit the Konza Environmental Education Program
Check out our new 2021 Friends of Konza Prairie Calendar! Available at Claflin Books and Copies - 4th & Poyntz, Manhattan KS