Visions of the Flint Hills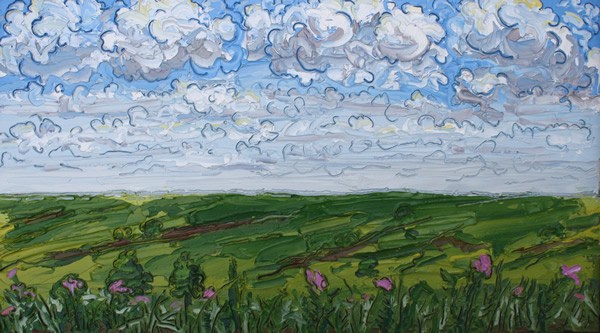 Visions of the Flint Hills is an art show highlighting the unique beauty of the Flint Hills - it runs from October 2 - November 17, 2017 at the Buttonwood Art Space
Sweeping paintings of sky and native prairie grass dominate the show, but sculpture pieces, fiber works, fused glass and photos are also featured on exhibit each October and November, in Buttonwood Art Space (www.buttonwoodartspace.com).
Proceeds from the event will benefit the Friends of the Konza Prairie and the Konza Environmental Education Program. The Flint Hills are the continent's largest remaining tract of Tallgrass native prairie which is also one of America's unique places. It harbors a wealth of adventure, beauty, and history. The region's sweeping horizons and carpets of wildflowers captivate artists and enchant visitors.

2018 Annual Wildflower Walk
When: Sunday, June 3rd - 6:30 pm
Where: Konza Prairie Biological Station - headquarters directions - NOTE: you will proceed past the entrance to the Nature Trail and enter into the KPBS headquarters area. Volunteers will be on hand to help direct you.
How far: You can turn around whenever you like, but the whole trail will be approximately 1.5 miles
No reservations required - just come out and join us!
What is Friends of Konza Prairie?
Friends of Konza Prairie (FOKP) is a 501(c)(3) non-profit organization dedicated to the support of the Konza Prairie environmental education program. As a member, your contributions are tax-deductible (less benefits received) and go to bringing area school children to the tallgrass prairie.
What does FOKP do?
Supports the Environmental Educator who develops educational programs for K-12 students and the general public, including the Docent Program, on prairie ecology and tallgrass prairie research and conservation.
Markets Konza Prairie merchandise to raise funds for our education programs.
Provides educational presentations about Konza Prairie to local organizations, through the FOKP Presenter's Bureau.
Sponsors special events at Konza Prairie throughout the year, such as:

Annual Wildflower Walk on Butterfly Hill in June

Fall Bison Barbecue Potluck at the Annual Meeting of members in September

Winter Event and soup buffet in January

Spring Event with invited speakers or special activities